Sailing Team
Leaving the noise, confusion, and stress of the world behind us and experiencing the freedom.
Istanbul is the city which has endless maritime potentials. As CALIGO, we embrace the nature instead of being against to it. We are proud to be a technology company that supports the development and endorsement of sailing.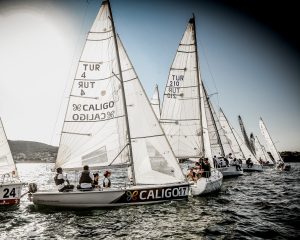 As CALIGO Sailing Team, our journey has started in 2019. We are eager to discover a new world by building a sailing community where our crew members have also the opportunity to make a self-discovery.
Sailing increases agility and multitasking by managing the sail trim, steering the boat, determining the optimum route in races, and adapting to wind shifts with a synchronous communication between the crew members in a practical way.
Communicating with the crew in a changing environment in terms of these wind shifts and conditions; contributes a sailor to instantaneous problem solving skills.
In 2021, CALIGO Sailing Team participated in both the Turkish Sportsboat Trophy and the ORC European Regatta with SB20 boat.  CALIGO Sailing Team qualified for the podium at the 2021 ORC European Regatta with its 3rd place in the Sea Chamber of Commerce Race.